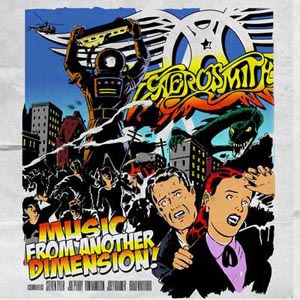 Aerosmith frontman Steven Tyler was recently interviewed by noisecreep.com. In the interview Tyler talks candidly about recording the new Aerosmith album Music from Another Dimension! and the much-publicized near break-up of the band a few years back.
When recording Music from Another Dimension! Aerosmith and producer Jack Douglas dug deep in the band's archives, and finished up some demos originally recorded during the band's Get A Grip sessions in 1992-1993. Says Tyler about the recording process: "When we do an album, one of our secrets is to 'overdo.' That way it's not just nine songs. We always overwrite. For every album there's 20 songs, and usually five that we don't use, and might get used for the next record. But this time we used them all."
Aerosmith have tried to write and record the new album on several occasions in the past few years, and at one point it looked as though it would not happen at all, with Tyler joining American Idol as a judge, and the rest of the band looking for a new lead singer. Luckily, the band members managed to put their differences aside and are set to release their first album of new material since 2001. Tyler mused on the subject and considered that it all worked out for the best: "It was just perfect the way it went. It was not nice at the moment and I was totally incensed that a lot of those guys didn't call me back, but I had done something to them. It's just the boys club, we can be rough with each other."