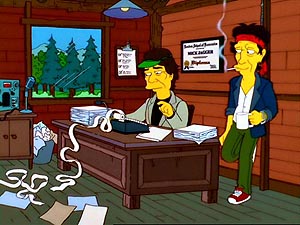 It's probably the biggest 'will they/won't they' question in rock at the moment (now that it's been made quite clear that Led Zeppelin won't be touring any time soon): are the Rolling Stones going to undertake a more extensive tour than the five-date run of late 2012?
In an interview with Rolling Stone magazine, Mick Jagger says there's a bit of paperwork to sort through first. "There have been quite a few offers," Jagger confirms. "I'm going to see what's on the table and discuss it with everyone. We'll announce it when we've figured it out."
Richards backs Jagger up: "Really, all you're going to have to do is wait for an announcement," he said, adding that the five 50th anniversary shows "went like a dream, at the same speed, man. But we barely got off the starting blocks. It would be dopey to bring things up to this level and say, 'Well, that's that, 50 years, bye-bye.'"
Keith says one thing that needs to be discussed in the Stones' 51st year is how much to play and how to do it. Richards concedes there are serious questions to be answered about live work in the Stones' 51st year: how much to do, how to do it. "That will definitely come into the equation," he says. "At the same time, a gig's a gig. The curtain opens and there you are. I just get the feeling – they're itching at the bit now. This thing wasn't enough."