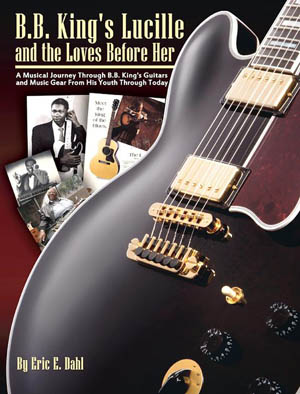 The story of how a Gibson B.B. King Lucille found its way back to the blues legend is in a new book. The tale is in B.B. King's Lucille and the Loves Before Her.
In 2009, Eric Dahl found an electric guitar in a Las Vegas pawnshop that had been stolen from King. Dahl didn't know that at the time, so he simply bought the Lucille. The Southeast Missourian reports Dahl saying it was "the discovery of a lifetime."
"I've played guitar since I was 5, and have collected guitars since high school," Dahl said. "I started going to pawn shops in Cape to look at guitars, and I continued that when I moved to Las Vegas. I got in good with some of the owners, and I told them to let me know if something interesting ever came in."
Contacted about the Lucille, Dahl bought it… and later found a small stamp on the back of the guitar reading: Prototype 1.
Dahl contacted Gibson who confirmed Gibson the company had presented the Prototype 1 model to B.B as an 80th birthday present in 2005, and it had been used as his main guitar during performances. But it was then stolen in the summer of 2009.
"That started my research," Dahl says. "I learned from sources in the guitar world that Gibson made 80 anniversary Lucilles, but there were also two prototype models made. Then I contacted a Gibson representative who told me that the Prototype 1 electric guitar had been stolen from Mr. King in the summer of 2009."
Dahl got to meet B.B. to hand the guitar back, and it inspired him to write his book, B.B. King's Lucille And The Loves Before Her.
"Nobody else had done a book about Mr. King's music gear," he said. "The book was three years of research. It wasn't easy, but I'm glad I finished it."
The book contains the history and color photos of each guitar King is known to have used during his epic career, starting with the one-string Diddley Bow he played as a child in Mississippi. The book also contains information about King's other pre-Lucille guitars, including a Schmidt model named Stella.
Dahl himself is a huge B.B. King fan and adds his book "is for Mr. King to know about while he is still alive. I think he'll enjoy it."