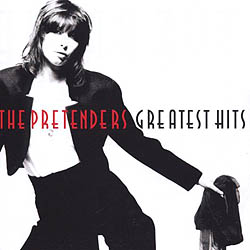 The Pretenders' frontwoman Chrissie Hynde is set to release her debut solo album, although she's reluctant to label it as such.

Titled Stockholm, the disc features contributions from Neil Young and guitar-playing tennis legend John McEnroe, among others. "It's the first album with my name on it," said Hynde, in a prepared statement. "But it's not a solo album. In fact, making this album was more of a collaboration than any Pretenders album ever was."

As its title implies, the album was recorded in Stockholm, Sweden, with Bjorn Yttling of Peter, Bjorn and John at the controls. Hynde describes the music as "ABBA meets John Lennon. "So much of rock 'n' roll has become what I would call Glory Rock, with family values," she said. "It's the irreverence in rock that was always the turn-on."

The album will be released June 10, with the 1st single, "Dark Sunglasses," slated for April 21.