---
Thin Lizzy Guitar Sound Evolves in Black Star Riders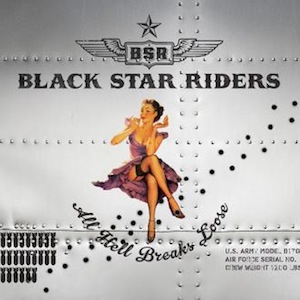 All Hell Breaks Loose, the debut album by Black Star Riders (the band who formed out of the latest incarnation of Thin Lizzy) features what guitarists Scott Gorham and Damon Johnson say is an evolution of their classic twin guitar attack.

So how do they approach that Thin Lizzy sound? Do they celebrate it? Avoid it? Hint at it? "Well, y'know, there's two different camps, really," Gorham says. "Damon keeps saying we're not going to get away from the Thin Lizzy sound just because of the fact that I'm in the band, y'know? It's my style. But when we decided that this was not going to be a Thin Lizzy album, it was going to be a Black Star Riders album, I was kinda shying away from the heavy harmony guitar thing and all that. But Damon and the other guys really wanted to keep that in there. And it's not because I hate harmony guitar. I just wanted to steer the thing in a whole brand new path. But now that we haven't done that, I'm glad that we didn't, because what we've come up with harmony-wise is a little bit different from the old Lizzy way of doing it. And it's kind of furthered it in a cooler way, if you can imagine that."

Johnson adds, "That's the thing. Scott is so incredibly humble about it and he always has been, but the fact is that he is a vital part of this particular piece of real estate in the history of rock guitar, the history of rock, period. I would say to him, 'Bro, you own that. You created that. You're part of it.' So for me and Marco and Ricky it's just an honor to be asked to play in Thin Lizzy to begin with. So I felt a healthy tug of war between whether it should sound like Lizzy or not."