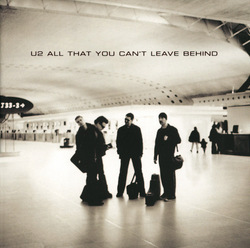 U2 are scheduled to be the first musical guest when Jimmy Fallon takes over The Tonight Show on February 17. Actor Will Smith will also be a guest on the premier episode. The Irish quartet are presumably on the show to promote their next album, which supposed to come out some time in the first half of the year.
The band has confirmed they will be debuting new music in conjunction with a Super Bowl ad on February 2. ATU2 reports that the band was recently in Santa Monica, Los Angeles, shooting a promo for the (RED) project, where a song called "Invisible" was used. However, it has not been confirmed whether or not this song will be included on the upcoming U2 album.
Last week U2 received an Oscar nomination for their song "Ordinary Love" from the Nelson Mandela biopic Mandela: Long Walk to Freedom.
Tags :
Topics :
classic rock, classic rock music news, Entertainment_Culture, u2 fallon tonight show, u2 invisible, u2 new album, u2 new song
Social :
Entertainment_Culture
Locations :
Los Angeles
People :
bono, Jimmy Fallon, Mandela, the edge, u2, Will Smith