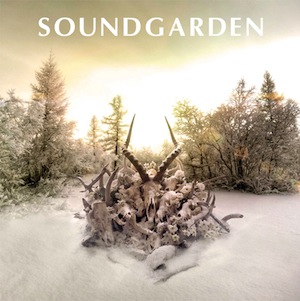 As we have previously reported here on Gibson.com, Soundgarden have confirmed the upcoming release of their first studio album in 16 years. The album, which is called King Animal, is scheduled for a November 13 release. It has taken years for the album to finally see the light of day after the band announced it back in 2010, and now Australian radio station Radar Music has proposed a reason for the lengthy delay.
As most of you know, Soundgarden drummer Matt Cameron is also the drummer of fellow Seattle band Pearl Jam. Cameron has been busy touring with Pearl Jam during their tour behind latest album, Backspacer, as well as brief tours with Soundgarden.
Radar Music is speculating that perhaps the new Soundgarden album was delayed on purpose so that it will sync up with another Pearl Jam release. GrungeReport.net recently published an interview with Pearl Jam bassist Jeff Ament where he was asked about the new Pearl Jam album, saying "We're half way through, we have a ton of ideas." Cameron has previously stated that he will not be leaving Pearl Jam as a result of playing with Soundgarden again. Radar Music is suggesting that there is a possibility the two bands will be touring together behind new releases next year, since it is hard to see how Matt Cameron could possibly pull off touring with both his bands at the same time in any other way.
Of course this is all speculation, but imagine seeing these two legendary bands back to back in concert. This would also open up the possibility for a Temple Of The Dog reunion, since that band was made up of Soundgarden singer Chris Cornell, Cameron, and members of Pearl Jam.