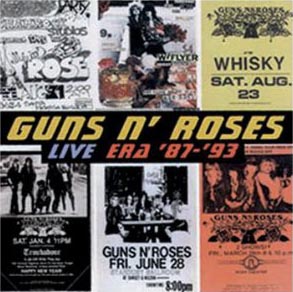 Legendary rock writer Lonn Friend has reflected on Guns N' Roses' last club gig before going on to become, in his words, "The greatest band in rock history."
In an interview with Metal Sludge, Friend recalled when GN'R played at a party for his RIP magazine at the Park Plaza Hotel. With the venue way over capacity, the fire department cleared a thousand guests from the building's downstairs area - including Alice Cooper and Steve Vai. Friend recalled the moment Axl Rose saved the day in a scene so perfectly cinematic that it could slot quite easily into any number of great rock movies. "I'll never forget sitting down on the stairs leading to the stage, cowering like a monk with my head in hands, a dozen men in yellow jackets and yellow hats hovering about me," Friend said, "when all of a sudden, a finger taps me on shoulder. I look up, and it's Axl. "Relax, man," he says. " We're going on." It was like he magically appeared from the rafters like the phantom of the opera. Moments later, GN'R tore the place apart."
The set ended after 3am, and a few days later Guns N' Roses were opening for The Rolling Stones at the Coliseum. "Think about this, the greatest band in rock history, the Rolling Stones, being upstaged by an opening act," Friend said of the Coliseum run. "But that's how unreal it was. GN'R was handed the rulebook and they, forgive the expression, ripped it to shreds."
By the way, for a great chronicle of GN'R setlists and flyers from throughout their career, check out http://gnrontour.com