Ask any guitar aficionado to cite the most important players of the past 50 years, and it's a near-certainty that Steve Howe's name will come up before they take their second breath. During his amazing career, Howe has recorded 19 solo albums as well as records with Asia, GTR and others, but his most indelible mark has been made as a primary force in the legendary prog-rock band, YES. A key composer and player on such classic alums as Fragile, Close to the Edge and Going for the One, Howe is to "prog" what B.B. King is to the blues.
YES's latest album, Heaven & Earth, finds the group furthering art-rock traditions with beautiful arrangements and the vintage "YES" sound. With new singer Jon Davison handling lead vocals, Howe, bassist Chris Squire, drummer Alan White and keyboardist Geoff Downes offer up sweeping melodies and shimmering aural landscapes that rank with the band's best work. In addition, the group is currently on tour performing Fragile and Close to the Edge in their entirety—along with songs from the new disc and an encore of greatest hits. Recently we spoke with Howe about the new album, the tour and his legendary ES-175—a guitar he's owned and played for half a century.
How did you approach recording the new album?
We had already done a lot of writing—demos, and so forth. To stimulate the process, Jon visited everybody, spent a week with me and time with everybody else as well. He got a feel for what each of us thought about what was circulated, bits and pieces of music. It wasn't all about sitting in a room, saying, "Well, shouldn't we write a song together?" It was more like, "Let's listen to this bit from this person. What do you think? Do you like that bit? Should we take that out?" There was that sort of fine-tuning, ahead of time. We did a week's rehearsal—played in a room together—but that was almost pointless. It's the sort of "old" thing you feel you have to do, and then you tighten it up in the studio. The album is a mixture of collaborations and solo ideas. It's a fine balance of various things we do.
Did you sense Jon was feeling any pressure, as the new guy?
I suppose he was under some strain, but he didn't show it. We were quite sure he could handle it. He isn't one to shy away from things—he's a very consistent and strong person. It's true he was tested, not so much by us but by the recording process--the hours you have to put in, and the repetition. He put in an awful lot of time to achieve what's on the album. But that's what production is all about. You go in, you sing, and someone might say, "Well, how about singing it more like this?" Everyone has an opinion about vocals, and everyone has an opinion about drums.
Have your thoughts about the role of the guitar in YES—it's place in the arrangements—remained consistent through the years?
Well, there has to be some consistency with YES, in general. We couldn't go out and make a hip-hop record, for instance. (laughs) We make albums in a certain style, and they require, generally, five people with different ideas to kind of agree on something. Sometimes that's difficult, and other times you pleasurably discover that someone else in the band shares your preference for something. A lot of my guitar work is built around the vocals, but I do take the opportunity to do a lot of single line stuff that's almost built around everybody. There comes a time when you get clarity and you get the payback of the guitar being strong enough to push the music onwards. I like being able to use various dynamics to accomplish that. I use various textures and I have a landscape to move around on. With some of the songs on the new album, I tried different approaches. On one track I did a whole New Age sort of guitar piece, but then I thought, "Well, I could do that, but maybe I should do this other thing." So I went off and did something entirely different. There wasn't enough time to do that on every track, but here and there I might have tried out an idea and thought, "Well, that's fun, but it seems not quite right."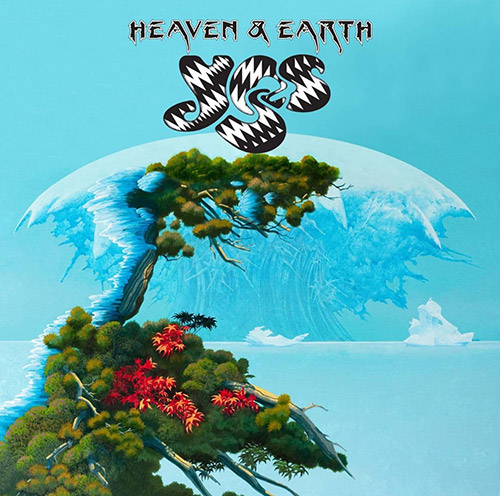 Can you talk a bit about your history with the ES-175?
I bought the original in '64. Prior to that I had played various guitars--mostly small solid-bodies—but all along I had the idea I was going to get a 175. Once I did get it, everyone said, "Oh, you're going to play that guitar?" Everyone thought I was weird because I wasn't playing a 'regular' guitar." But I liked that sense of identity that it immediately brought me. I thought, "Wow, everyone's looking at me." I played the 175 all through the '60s, and then on The Yes Album it was all the 175. Then I went forward to the ES-5, the stereo guitar, and eventually back to the Les Paul and other things. I rambled through the '70s, trying out various guitars, but the ES-175 never went away. It was always the fundamental Steve Howe guitar sound and approach, and I loved that. Eventually I thought, "What am I buying new guitars for? This one is better than them all." (laughs) The 175—all the Gibsons I play, for that matter—are just perfect for what I use them for. I'm still mainly a Gibson player.
You've talked elsewhere about how you play the ES-175 for about 20 minutes to "warm it up." Can you elaborate?
That's from an article I read in Science Today, or New Scientist or something. Apparently some tests were done on guitars in Japan, where they found that until it's been played for about 20 minutes, it's not fully resonant and fully responsive. That's especially true if it's been sitting in a case, where it hasn't been played for months. But in a larger sense, if you haven't played a guitar a lot, then you're not going to get a lot out of it. You have to put something in to get something out. That's what I discovered with the 175. After putting five or six years into it I had a fantastic guitar. Whenever I let someone play it--and there were only about three people who were allowed (laughs)--they went, "This is an amazing guitar to play!" Partly it was because of the strings I use, the gauges, but also it was because I had played it so much. I only had it re-fretted after having played it for about 45 years. That's another amazing aspect.
Chuck Berry was one of those people you allowed to play it. What's that story?
That was at the Albert Hall in London in the late '60s, before I joined YES. I was in a group called Bodast. We had been booked as Berry's backing band. It was an amazing thing that happened. We went on-stage to rehearse, and Berry walks in, points at me and says, "We don't need you." I said, "Okay, alright, I'll step out then." So I did, and he went on to play—just him on guitar. Often he had a rhythm guitarist, but he didn't that night. Either during the interval, or just before the show, I bravely tapped on his dressing room door. He shouts "Yeah!" and I walk in. I said, "It's Steve, from the band. I just want to show you my guitar." I played it for a few minutes, and he got this look in his eyes. He says, "That's amazing, an amazing guitar!" It truly is a great guitar.
Do you take it on the road with you?
I used to take it on the road all the time. Now I don't, except for when I'm touring the U.K. No matter what the airline rules are, they'll tell you there's some other rule that prevents you from keeping it with you. I used to buy a ticket for it. I remember showing up for an Air Canada flight, in London, and I had my guitar with me. They went, "Oh, this isn't a person." I said, "So what?" They said, "Well, you can't have a seat without a person in it. We can't give it a boarding pass." I told them to just give it a pass and call it "Mr. Gibson." (laughs)
On current tour you're playing Fragile and Close to the Edge in their entirety. Which of those albums presents the bigger challenge?
The one we haven't played, which is Fragile. Actually it shouldn't be that difficult. We already know two of the songs—"Heart of the Sunrise" and "Roundabout"--very well, although we've generally played them in a slightly different way from the album. For this tour we'll adapt to playing them closer to the record. It's going to be all about the album, and our appreciation for the talent we had then, and the talent [producer] Eddy Offord had to pull that sound together. Nobody else really knew how to do that, except Eddy.
How much thought do you give to your legacy? Do you ever reflect on your impact, and all you've accomplished?
It would be egotistical to say I do that, but there is a scale there that I'm proud of. I do feel a sense of achievement, but it's not a question of sitting and thinking, "Wow, look at what I've done." I'm not a critic. I'm a performer and a writer and a guitarist. It's also true there's some music of mine that I like more than the music most people associate me with. It's not as if I always like everything I've ever done, but I do have the pleasure of having that repertoire. It's all very rewarding.
Photos: Rob Shanahan